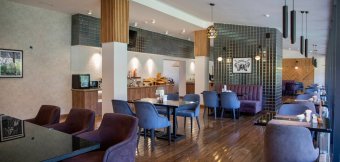 In the Epos restaurant, which is located on the 4th floor of the Grand Khan Tengri Hotel, with stunning views of the Tien Shan Mountains, you can enjoy an excellent breakfast, business lunch and a La Carte menu, including dishes of European, national cuisine and seasonal menu.
And if you want to breathe the incredible mountain air, our staff will set up a table for you on the outdoor terrace, which will make you even closer to the majestic mountains stretching across the horizon.
Epos Restaurant services
Buffet breakfast
$8/650 som
Lunch
$10/from 850 som and above
Dinner
$9/from 790 som and above
Buffet lunch
$17/1450 som
Buffet dinner
$17/1450 som
Coffee break
$6/from 500 som and above
It is also possible to order from the restaurant menu.